Geraldine is a country-leaning acoustic trio blending elements of old time, American folk, bluegrass, and alternative country in a distinctive, enthusiastic sound. As stewards of Appalachian motifs in a modern framework, they bring banjo, dobro, guitar, and fiddle to the front of the stage, accented with lush three-part harmonies, in a free-wheeling repertoire of both rare and wonderful gems from the past and original songs
---
Josh Anderson (fiddle, mandolin, guitar, vocals)
Josh is a versatile violinist with 20 years of experience playing many styles including classical, bluegrass, country, rock, jam, funk, blues, and jazz. He slso plays guitar and mandolin. Lives in Historic Ellicott City, MD.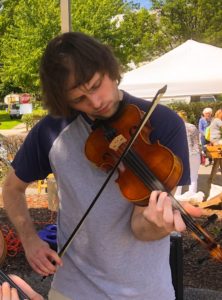 Noah Bowman (bass fiddle, guitar, banjo, fiddle, vocals)
Noah is a multi-instrumentalist from Laurel, MD. He has played with various bands in the Washington – Baltimore, and Toledo, OH areas. Noah specializes in traditional Old-Time music. He was the 2nd place winner in clawhammer banjo at the 2017 Deer Creek fiddler's convention.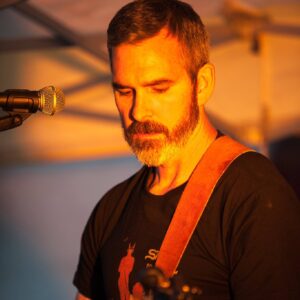 John Bolten (guitar, banjo, vocals)
John is an avid songwriter, musician, and folk music enthusiast from West Virginia. His songs are often recorded and performed by other local bands and regional recording artists. He lives in Catonsville, MD.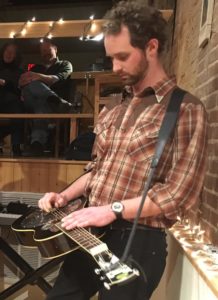 Ben Lassiter ( dobro, guitar, vocals)
From Hampton Roads, Va., Ben is predominantly a dobro player who also plays guitar. With a degree in music therapy, Ben has played/toured with bands throughout Baltimore and Hampton Roads, Va and has performed with and/or opened for notable musicians such as Sammy Shelor, Rob Ickes, and Dom Femons.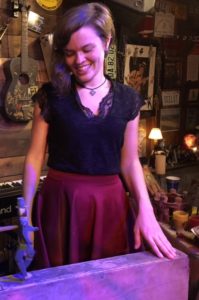 Jocelyn Haversat (percussion, dance board)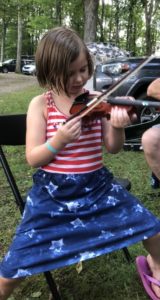 Lilly Bolten (manager, ice cream taster, and song approver)
"I like the song, but can you put some fairies in it?"