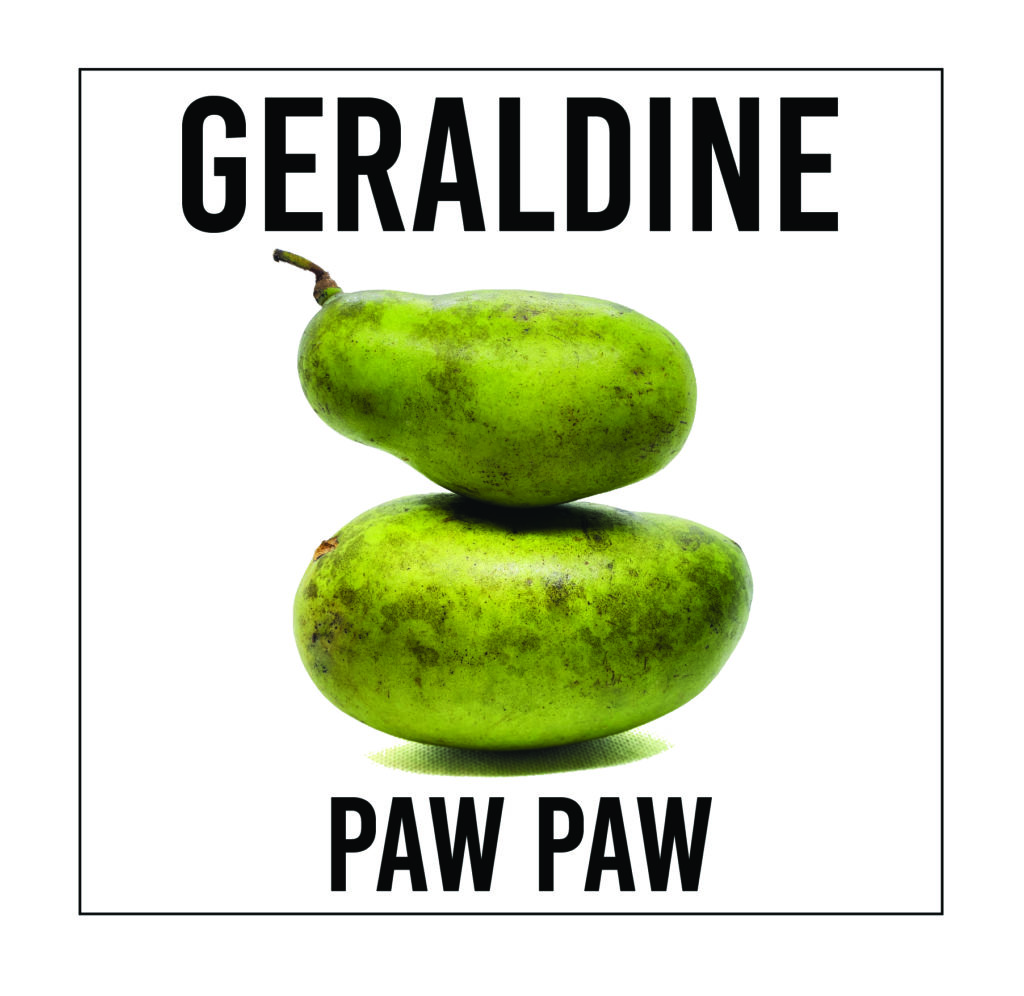 Being released in May, 2023, Paw Paw, Geraldine's second album has nine original songs featuring Geraldine's signature 'Good Time Old Time' sound. A follow up to their highly regarded debut album, 'Harvester', 'Paw Paw', leans heavily on Geraldine's old time-influenced instrumental work including double fiddling, mandolin, guitar, and banjo, and borrows some talent from friends Cris Jacobs and Caleb Stine, and Nick Sjostrom. The album was recorded in Baltimore in May 2022, recorded, mixed and mastered by Nick Sjostrom.
Paw Paw has nine new songs written by songwriter and guitarist/banjoist John Bolten, and continues to push the boundaries of traditional old-time themes, focusing on songs from everything from their favorite fruit (and North America's largest seeded fruit, the Paw Paw!), to songs about chickens, 'Chicken TV', and even a homage to square dancing and old time jams, 'Grand Old Time'. The album also explores more traditional bluegrass-oriented themes on 'Under the Mountain', and 'Would If I Could'. Showcasing John Bolten's singer-songwriter roots, 'Embers', 'Life By The Reins', and 'Big Skies', present the band's gentler side and vocal harmonies and novel arrangements. The album also features 'In the Water', which is a special song commissioned by the Annapolis Baygrass Music Festival to help promote the health of the Chesapeake Bay. Many thanks to our friends at Annapolis Baygrass Music Festival for their support and for putting on such an amazing festival!
Song are listed below:
1. Paw Paw – A fun song about our favorite fruit, Asimina triloba, North America's Largest seeded fruit!
2. Life By the Reins – Life gets tough and bucks you off and you gotta get back on.
3. Would If I Could – Sometimes you just gotta say, 'I would if I could, I can't so I won't.
4. Big Skies – A song about longing to be in Big Sky Country with the one you are longing.
5. Under the Mountain – A song about digging up your dusty, dog eared, attic, dreams.
6. Chicken TV – When we watch our chickens in the yard, we call it watching 'Chicken TV'. 🙂
7. Embers – Breaking up is tough. Breaking up by text is even harder.
8. In the Water – A song about Chesapeake Bay health. Our actions effect the water. Protect the Bay!
9. Grand Old Time – An homage to the old time scene – jams, dances, flat foot dancing, and friends!
Josh Anderson: fiddle, vocals; John Bolten: guitar, vocals; Jocelyn Haversat: bass, vocals; Jonathan Vocke: banjo, fiddle, mandolin, vocals Cris Jacobs: vocals, dobro (track 8); Nick Sjostrom: percussion, hoots (track 9); Caleb Stine: vocals, hoots (track 9); Lilly Bolten: vocals (track 9) Traditional melodies for track 9 borrowed from Uncle Bunt Stephens, 'Sail Away Ladies' and The Hammons Family, 'Cranberry Rock' Engineered, Mixed, and Mastered by Nick Sjostrom; Photos by William Wall All songs by John Bolten and Geraldine; Information and lyrics: www.geraldineband.com; © ℗ 2023, John Bolten (BMI)